Sunday Worship Services
Espoo services meet at 10:15 at our Matinkylä location – welcome!
Helsinki services gather at 16:00 in downtown Helsinki – welcome!
Find us on the map at this page!
In case of any last minute changes, we will let you know via our UCC Ministry Updates WhatsApp group chat – if you would like to be added to this chat group, please contact a pastor or staff member!
This fall, we will take the Kingdom Kids (Pre-Teens) to a trampoline house called Rush. Rush will serve as an excellent opportunity to have great fellowship amongst one another.
This event will take place on September 30th. We have time booked from 18:00 to 20:00, so we must be there on time!
Please fill out this form to register your child for this event.
Contact Gabe with any questions! His email is byrdhg@gmail.com
Friday, September 23th, we will not have a youth meeting. Instead, the Pre-Teens and Teens will meet at a football field for outdoor games and fun. This event is open to the community. We want to invite friends from school, neighborhoods, sports teams, etc. This event is for our youth group to get to know more people outside of church and ask them to visit our church. Please check out the details below.
When: Friday, September 23
Where: Avaruuskatu 1 E-F, 02210 Espoo
Who: All Pre-Teens and Teens are invited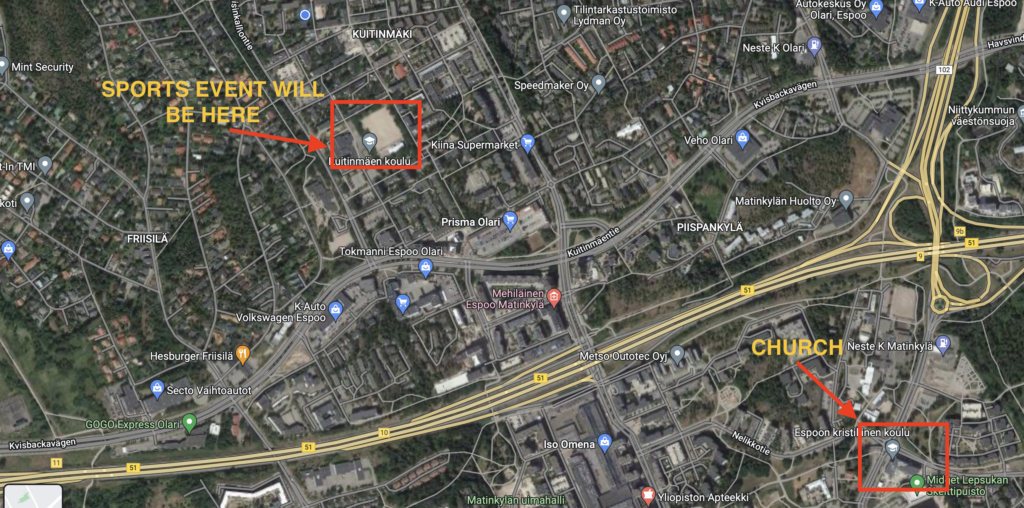 Contact Gabe with any questions! His email is byrdhg@gmail.com
Contact Gabe with any questions at byrdhg@gmail.com
Special Missions Opportunity
Last minute announcement for a special opportunity!
Andy Juliff from the OM Ships will be doing a special presentation on the ministry followed by a time of prayer and worship. This gathering is for anyone who has ever been on the ships before but especially anyone who is interested in going themselves or sending their children on the ships; this is also a good evening for anyone who is interested in missions, and wants to learn more.
We will meet on Wednesday the 28th of September at 18:30 at the UCC Offices. There will be no official childcare, but there'll be a place for kids to be in the conference room at the offices. Coffee and light refreshments will be served. (Contact Shaun with any questions.)
Find out more about the OM Ships here: https://www.om.org/ships/
Life Groups at UCC
We have several life groups (called small groups) across all our congregations around the capital city area.  Our life groups usually meet weekly or fortnightly, and typically offer fellowship, Bible study, discussion and prayer.
To learn more, please speak with any staff member or sign up for a group with this link. 
Sign up to serve?
At UCC we want to help you connect with our church family  and offer you opportunities to serve one another. Some of our current teams are, for example, kids and youth, kitchen, set up, tech, music, and social. These teams wouldn't run without you, our faithful members and attenders – so thank you! 
If you would like to help on any of our teams, or if you'd like to learn more, please speak to a team leader or any staff member and we will get you plugged in. You can also sign up via this form. 
New: Helsinki Mother & Child Club
On Friday mornings between 9:30-12, Helsinki mothers gather in various homes to meet together for fellowship and encouragement.
To learn more or to be added to the chat group, please contact Susanna Willner (044 2404 688).
Women of the Word
Women of the Word (WOW) will continue on with the study of the fruits of the Spirit with the topic of patience. Our next meeting will be on Friday the 30th of September from 18-20 at Miriam's apartment in downtown Helsinki.
WOW meets in person once a month for an evening of discussion and prayer regarding materials that can be found online at ucclife.fi/wow. No need to sign up – contact Miriam (0407259049) if you need address details!
UCC Classes
At UCC we want to help you grow in maturity as a believer and worshipper of Jesus. To that end, we offer various classes. 
On the 2nd and 9th of October we will hold Membership Classes at UCC Helsinki immediately following the worship service (roughly 17:45-19). These classes will teach you about church membership and what we believe about it here at UCC. The class itself is informative and open to everyone, and after you've completed the class you can decide whether or not to pursue membership with us. Click here to sign up for the membership class!
We'll also be teaching a "New to Christianity" class in the autumn – stay tuned for details! 
Listen to our 1-2 Peter Playlist
We are building a playlist of songs inspired by or based on the current sermon series on 1-2 Peter. More songs will be added here as we go through the series, and many of these are the songs we'll be singing during our services too.
Let us know if you have a suggestion!
Upcoming UCC
Social Events
We have a WhatsApp group chat where we post all our Social events. Events are also posted on the church website calendar.
To join the WhatsApp group, contact Miriam (0407259049) or Mark (+1 717 742 8018) via WhatsApp and ask to be added to the group!
On the first Saturday of November there will be a social event in downtown Helsinki – probably games and potluck food at Miriam's from 16-21-ish – but more specifics will be announced later.